Questions

Hi guys,
I have multiple Chris21 connectors failing in a customer system with the following error when running a full import: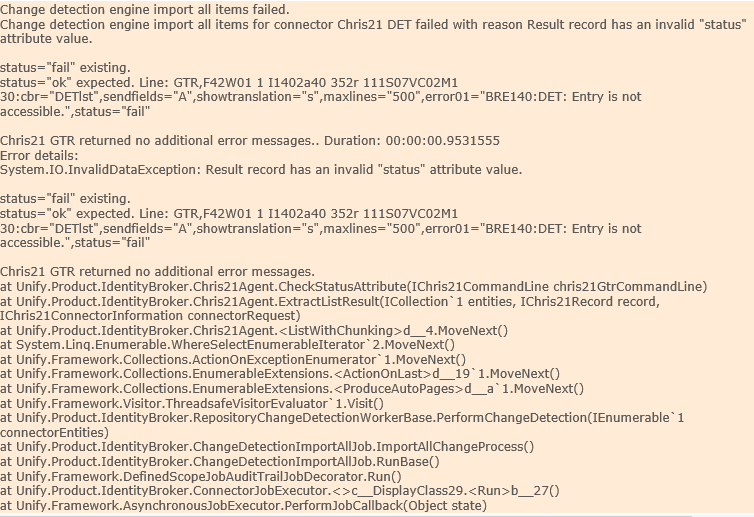 My initial thoughts were that this was a problem with Chris21. But I have had the customer run the GTR query directly against Chris21 and it has received no such status failed messages.

The customer had recently upgraded to Chris21 version 8.19.10. Identity Broker version is 4.1.1 and Chris21 Connector version 4.1.1.0. Version upgrades were undertaken on the 12/05 and completed on the 14/05, however the issue was only recently raised so we weren't able to grab logs before these date's to see if it was an active issue.

The customer has pointed out that one field has been renamed on one of the forms but this field is not used in the schema in Idb.

Before this the agent and connector was displaying this error which we fixed by setting the interface in Chris21 to "Default":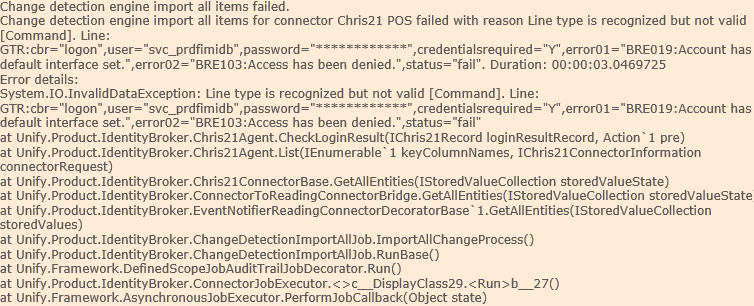 Not sure if it is related but I thought it would be helpful as to understanding the full scope of the problem.

Would anyone be able to shed any light as to why this could be happening?

Thanks, Liam