Articles
Overview
UNIFYNow is capable of performing as a real-time event engine for not only for Microsoft Identity Lifecycle Manager 2007 and Microsoft Forefront Identity Manager 2010, but also Microsoft Azure DirSync and Azure AD Connect. This section introduces concepts specific to its use in this scenario.
DirSync and Azure AD Connect utilize a version of Forefront Identity Manager in order to perform its synchronizations. UNIFYNows Auto Configuration functionality can be utilized to very quickly set up real-time processing.
WARNING: UNIFYNow will not support AAD Connect from version 1.4.18.0 onwards, as the WMI namespace is no longer available.
Configuration
The recommended configuration whilst running UNIFYNow in this scenario differ only slightly from that which is created by the MIM Auto Configuration. The below points list the differences from a standard Auto Configuration:
MIM Agent
The first step of the auto configuration mechanism is to enter the details of the active FIM instance. For DirSync, these details must correspond to the details of the DirSync instance.
The server name must include the instance name of SQL Express that was created by DirSync. This by default will be MSONLINE (so a local installation will be: localhost\MSONLINE). This can be confirmed in SQL Server Configuration Manager.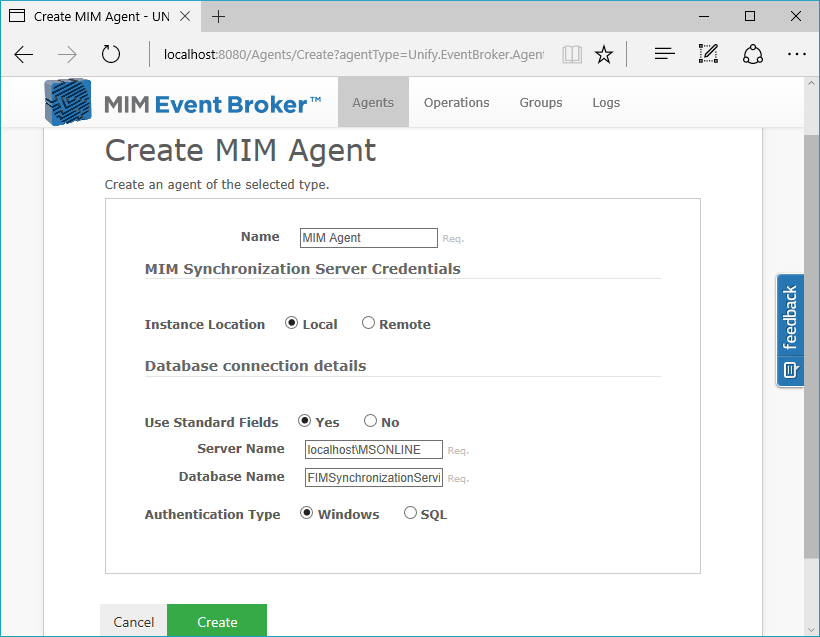 Windows Azure Active Directory Connector
Set up a simple recurring schedule to ensure changes in Azure Active Directory are picked up on a regular basis.