Articles
Overview
An Aurion schedule connector is a reading and updating Connector provided by  UNIFYBroker/Aurion. 
This connector is an extension of the Aurion generic reading connector, and therefore supports all the same functionality, in addition to being able to update scheduled employees..
Technical Requirements
The Aurion schedule connector has no additional requirements following the listed connector prerequisites. 
Usage
| | |
| --- | --- |
| Reading | Yes |
| Updating | Yes |
| Adding | No |
| Deleting | No |
| Polling | No |
In addition to querying data, this connector is capable of updating scheduled employees with the EMP_SCHED_EMP function of Aurion's ev397_aurion_ws web service:
AWARD_CODE
BANK_ACCOUNT
BANK_ACCOUNT_NAME
BANK_BRANCH
CONTRACT_EXPIRY_DATE
DATE_APPROVED
DAYS_PER_WEEK
EMPLOYEE_NO
ENTERPRISE_AGREEMENT_CODE
FULL_TIME_HPW
HAVE_WORK_PATTERN
HOLIDAY_GROUP_CODE
HOURS_PER_WEEK
PAYMENT_TYPE
PAY_BRANCH_CODE
PAY_ENTITY_CODE
PAY_POINT_CODE
PROBATION_DATE_DUE
PROBATION_TYPE_CODE
STANDARD_MON_FRI
VALIDATE_ONLY
WP_START_WEEK
WP_WEEK1_FRI
WP_WEEK1_MON
WP_WEEK1_SAT
WP_WEEK1_SUN
WP_WEEK1_THU
WP_WEEK1_TUE
WP_WEEK1_WED
WP_WEEK2_FRI
WP_WEEK2_MON
WP_WEEK2_SAT
WP_WEEK2_SUN
WP_WEEK2_THU
WP_WEEK2_TUE
WP_WEEK2_WED
Schema
In addition to the standard Query fields schema provider, there is an additional provider called Default Schedule schema. This creates a schema based on the fields supported by the EMP_SCHED_EMP function. The fields from this schema provider must be used over those that are returned by the query to allow for exports to occur to those fields. To map between differences in field names from Aurion query names to schema fields, update the mapping settings.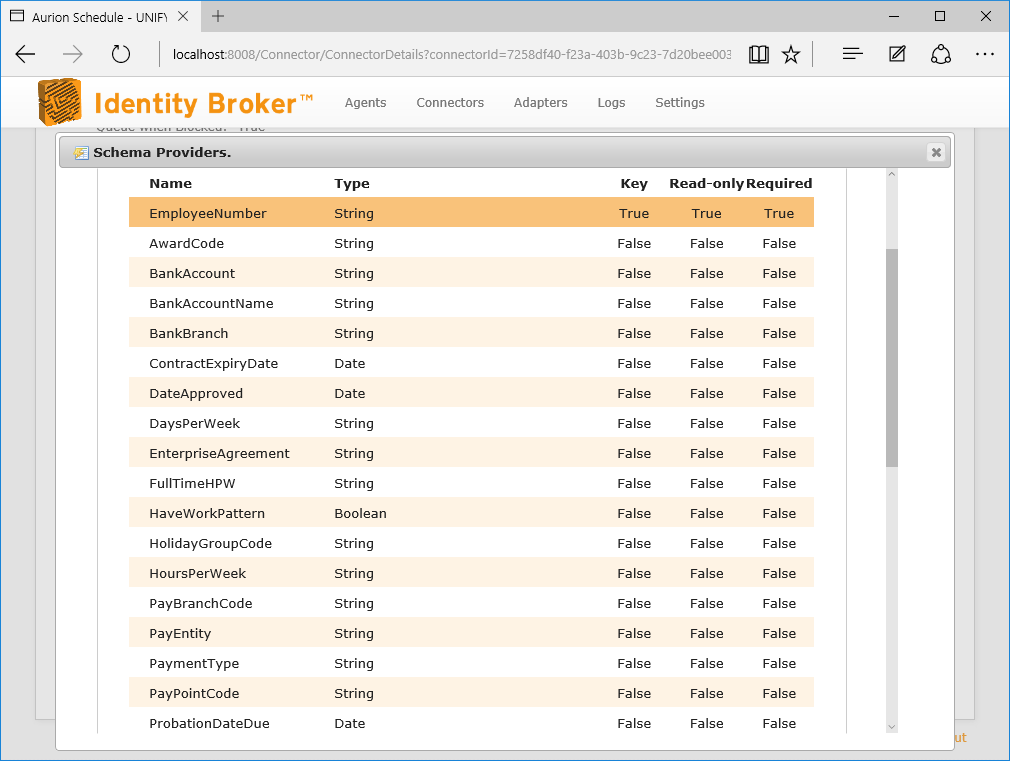 Configuration
An Aurion schedule connector has the same configuration as its base generic reading connector.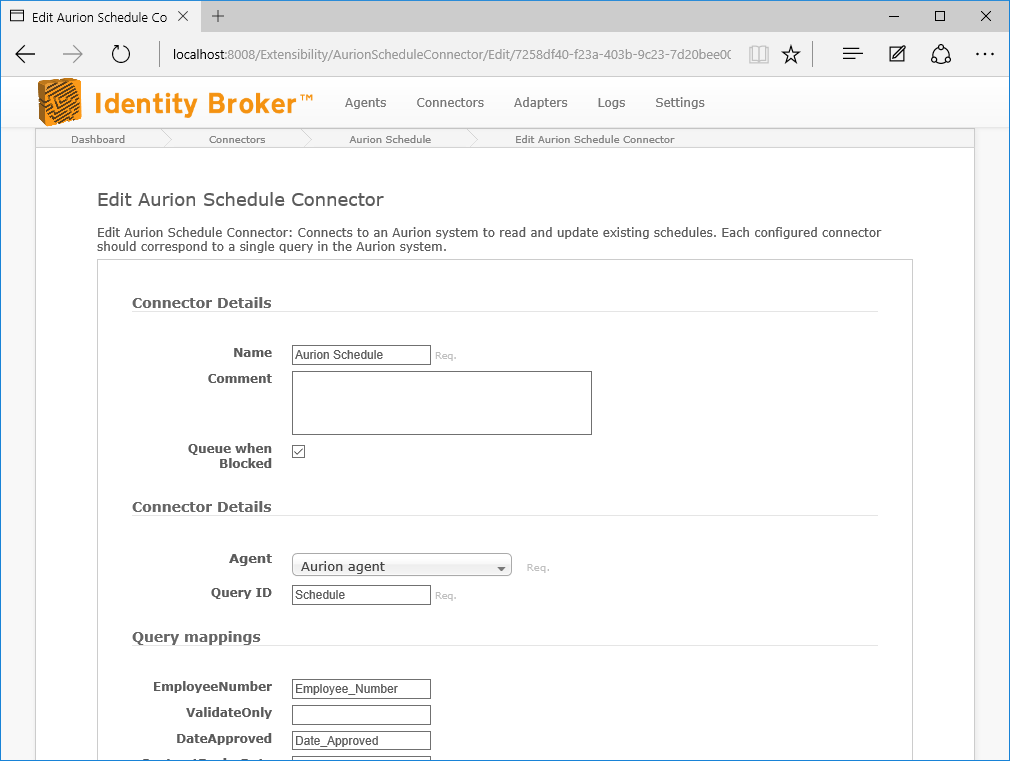 Mappings
Mappings allow fields in the schema to be mapped to the attribute names returned by the Aurion query during read operations. These are required when using the default schema provider, as the schema fields names are not the same as the query field names.