Bugs

There is an issue with the _KB_JadeStar Position Occupancy Connector in where the PrimaryOccupancyIndicator is not properly reflecting the values in JadeStar properly.
Details moved to comment. -BH
The PrimaryOccupancyIndicator for these two roles are both set to True in the connector. In the adapter, the Occupancy is joined with the Employee using PrimaryOccupancyIndicator as Priority and since there are two of these entries it chooses the first one which in this case is the wrong occupancy.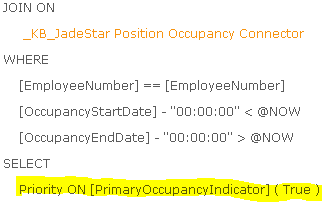 Could you please take a look at this connector and advise?