Questions

In my Broker/Plus environment (based on UNIFYAssure for Aurion) I am trying to synchronise the manager attribute to AD but seeing the following error:

My configuration has an Aurion connector/adapter -> Link -> Locker -> Link -> AD connector/adapter in a standard setup.
The Manager attribute in the Aurion adapter is calculated via a DN join: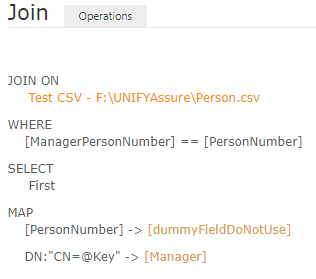 Here's an example, looks correct.


I synchronise the Manager attribute from the Aurion Adapter to the Locker:


It looks correct in the Locker:




Then from the Locker to the AD Adapter:

Here's the AD Adapter configuration:


When I attempt a Baseline Synchronisation on the AD Link this is what I see, and the error above appears in the log file:

Can you please tell me what I need to do to get the synchronisation of the manager attribute to work correctly from the Locker to the AD Adapter?