Bugs

Accountname is a DistinguishedName attribute & is used in Sharepoint connector as the Key and also as the DN in adapter.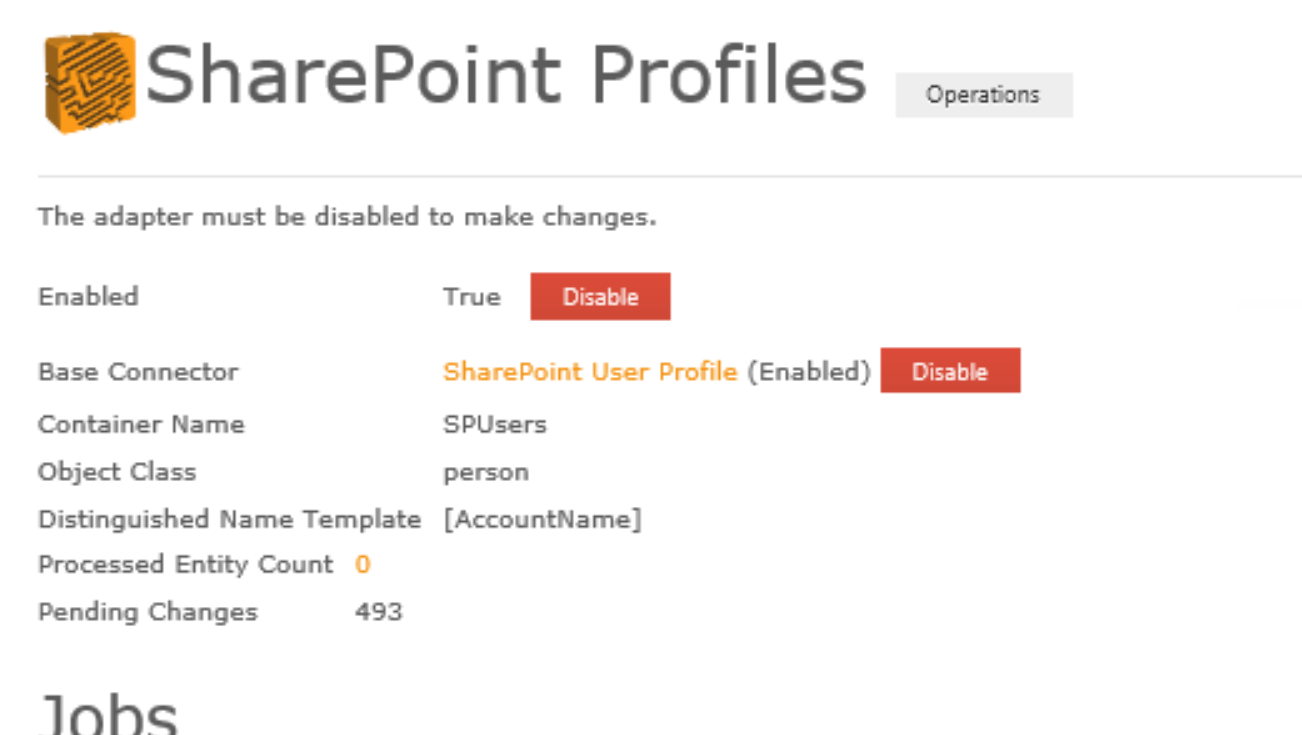 No key duplication errors are being seen. 
Data can be imported without error with Adapter disabled.  
When 'Generate Changes' is performed the error below is thrown. Is this the correct way to use a DN attribute as a DN? Not sure if this is a bug or misconfiguration.
<AdapterConfiguration AdapterId="4e96758c-06c5-44dd-9f32-557b3e75d16f" AdapterName="SharePoint Profiles" containerName="SPUsers" enabled="false" BaseConnectorId="770d9450-dcc8-41c9-b0b4-bc2d46fdc3ae" class="person">
      <dn template="[AccountName]" />
      <Groups />
      <adapterEntityTransformationFactory name="Sequential">
        <adapter name="Move" key="1bec7d3a-9384-49b6-ad4b-8266e5a286b0">
          <Extended>
            <columnMappings>
              <columnMapping SourceAttribute="UserProfile_GUID" TargetAttribute="UserProfileGUID" />
            </columnMappings>
          </Extended>
        </adapter>
      </adapterEntityTransformationFactory>
    </AdapterConfiguration>

20170605,07:13:28,UNIFY Identity Broker,Adapter,Error,"Request to reflect change entities of the adapter.
Request to reflect change entities of the SharePoint Profiles (4e96758c-06c5-44dd-9f32-557b3e75d16f) adapter errored with message: An item with the same key has already been added.. Duration: 00:00:00.5937686
Error details:
System.ArgumentException: An item with the same key has already been added.
   at System.ThrowHelper.ThrowArgumentException(ExceptionResource resource)
   at System.Collections.Generic.Dictionary`2.Insert(TKey key, TValue value, Boolean add)
   at System.Linq.Enumerable.ToDictionary[TSource,TKey,TElement](IEnumerable`1 source, Func`2 keySelector, Func`2 elementSelector, IEqualityComparer`1 comparer)
   at Unify.Product.IdentityBroker.Adapter.ConvertPageAndUpdateContainers(IEntity[] entities, Boolean updateContainers)
   at Unify.Product.IdentityBroker.Adapter.ReflectChangesInner()
   at Unify.Product.IdentityBroker.Adapter.ReflectChanges()
   at Unify.Product.IdentityBroker.AdapterAuditingDecorator.ReflectChanges()
   at Unify.Product.IdentityBroker.AdapterNotifierDecorator.ReflectChanges()
   at Unify.Product.IdentityBroker.ReflectAdapterOnChangeDueJob.<RunBase>b__9_0(IOperationalAdapter adapter)",Normal